Highlights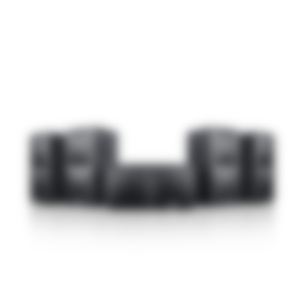 Why we love this product
The CUBYCON is among the most unassuming, but at the same time high performing audio systems on the planet. To sum it up: introverted, extravagant, audio giant.
Key advantages at a glance
Build your own CUBYCON set with subwoofer, receiver, accessories, etc.
2-way micro speakers with fully alluminum housing and sophisticated coax drivers
Set consists of 5 satellite speakers for use with a home cinema system
High-quailty aluminum housing
Magnetically shielded, can be placed flat or vertical
Postion: wall/bookshelf/stand
Compatible with all AV receivers
Installation
Integrated keyhole brackets on the satellite make it easy to mount them on a wall – directly alongside your display, for instance. They can also be placed on the AC 3001 SP speaker stand available separately.
Included components
Cubycon satellite speakers
1 × CUB 2 15 - Centre + Satellites - Bundle – Black

4 × Satellite Speaker CUB 2 FR 15 (pcs.) – Black
1 × Centre Speaker CUB 2 C 15 – Black
Specifications
Satellite Speaker CUB 2 FR 15 (pcs.)

High-end 2-way micro speakers with solid aluminium enclosures.

| | |
| --- | --- |
| Width | 9,5 cm |
| Height | 18,8 cm |
| Depth | 9,7 cm |
| Weight | 1,4 kg |

| | |
| --- | --- |
| Terminal clamps | Gold-plated screw terminals |
| Minimum amplifier output power recommended | 20 W |
| High level speaker outputs | 1 |

| | |
| --- | --- |
| Suitable for AV receiver | Yes |
| Suitable for banana plug | Yes |
| Maximum cable diameter | 4 mm |
| Equalisation openings (pos.) | Backside |
| Equalisation openings | 2 |
| Enclosure material | Aluminum |
| Enclosure surface | Anodised |
| Magnetic shielding | Yes |
| Net internal volume | 1,2 L |
| Keyhole plate mounted | Yes |
| Wall mounting brackets | Yes |
| Tweeter (number per enclosure) | 1 |
| Tweeter (diameter) | 20 mm |
| Tweeter (material) | Silk |
| Midrange driver (number per enclosure) | 2 |
| Midrange driver (diameter) | 80 mm |
| Midrange driver (material) | cellulose |
| Continuous power handling (IEC - Long Term) | 100 W |
| Sensitivity (2.83 V / 1 m) | 90 dB |
| Frequency range | 200 - 20000 Hz |
| Peak power capacity (IEC - Short Term) | 140 W |
| Maximum sound pressure level | 100 dB/1m |
| Impedance | 4 - 8 Ohm |
| Crossover frequency to Woofer (recommended) | 150 - 200 Hz |
| Acoustic principle | 2-way-system |
| Enclosure type | Bass reflex |
| Crossover frequency internal switch | 5000 Hz |

Centre Speaker CUB 2 C 15

High-end 2-way micro loudspeaker made of solid aluminium

| | |
| --- | --- |
| Width | 18,8 cm |
| Height | 9,5 cm |
| Depth | 9,7 cm |
| Weight | 1,4 kg |

| | |
| --- | --- |
| High Level speaker inputs | 1 |
| Terminal clamps | Gold-plated screw terminals |
| Minimum amplifier output power recommended | 20 W |

| | |
| --- | --- |
| Suitable for AV receiver | Yes |
| Suitable for banana plug | Yes |
| Maximum cable diameter | 4 mm |
| Equalisation openings (pos.) | Backside |
| Equalisation openings | 2 |
| Enclosure material | Aluminum |
| Enclosure surface | Anodised |
| Magnetic shielding | Yes |
| Net internal volume | 1,2 L |
| Keyhole plate mounted | Yes |
| Wall mounting brackets | Yes |
| Tweeter (number per enclosure) | 1 |
| Tweeter (diameter) | 20 mm |
| Tweeter (material) | Silk |
| Midrange driver (number per enclosure) | 2 |
| Midrange driver (diameter) | 80 mm |
| Midrange driver (material) | cellulose |
| Continuous power handling (IEC - Long Term) | 100 W |
| Sensitivity (2.83 V / 1 m) | 90 dB |
| Frequency range | 200 - 20000 Hz |
| Peak power capacity (IEC - Short Term) | 140 W |
| Maximum sound pressure level | 100 dB/1m |
| Impedance | 4 - 8 Ohm |
| Crossover frequency to Woofer (recommended) | 150 - 200 Hz |
| Acoustic principle | 2-way-system |
| Enclosure type | Bass reflex |
| Crossover frequency internal switch | 5000 Hz |